Musicians and costumed characters invite themselves to the castle and plunge you into the excitement of the 16th century: welcome to the splendour of the Court under the sign of the festival.
Court Revelry
From 29 April to 1 May and from 27 to 29 May
Two musicians from the ensemble "Le Banquet du Roy" offer you a taste of the music and dances that marked the festivities of the Renaissance kings. Through an interactive and playful workshop, this passionate duo will lead you to discover the unusual and unusual timbres of ancient instruments, and like dancing masters, they will guide your steps in festive and joyful dances!

Workshops at 11am, 2.30pm and 4pm (45 mins)

All public - without reservation



Royal flats and gardens welcome the French Court, dressed in its finest finery: pearls, ribbons and velvet enchant you during impromptu parades.
Three times a day, the "Danse et Danseries" ensemble leads the ball and revisits the choreographies of the French and Italian Renaissance.

Demonstrations at 11am, 3.30pm and 5pm
Sunday 28th May

Led by Pier Guittet, textile designer, costume designer, textile history enthusiast and sewing teacher
"Create your own historical silhouette


Revisit the lines and volumes of a Renaissance dress and play with ephemeral materials, such as white kraft and lace doilies, to create a paper silhouette on a mannequin. Drilled, cut, rolled, folded, twisted, laced, crumpled, quilted, braided, let the paper talk!

Sunday 28 May at 10.30 am (2 hours)
From 10 years old
Reservation recommended on 02 54 90 33 33 (limited number of places)
"Bring back your strawberries
Silk paper, paper lace, foam and cotillion balls, feathers, felt shapes, straws, cords, fake furs: play and experiment with the shapes and textures of Renaissance fashion accessories.
After a short visit to the painting that inspired you, leave with your own creation.


Sunday 28 May at 2.30pm (2 hours)
From 10 years old
Reservation recommended on 02 54 90 33 33 (limited number of places)
"Effervescences at the castle
From 6 to 8 May and from 18 to 21 May
The merry men of the Taprobane Company will take you through the ages and give you historical experiences...

Pass by the herbalist's shop where he reveals the secrets of Renaissance plants and spices, as well as the fruits and vegetables used in cooking. Surprising scents, a vegetable garden quiz and other fun activities allow you to learn while having fun.

Discover the work of leather, an essential element of life in past centuries. This workshop explains the different uses of tanned leather, whether for armour, paper, bags, jewellery or even straps.

Train in the art of ancient fencing with experienced fencing masters. The use of weapons and their development, weighing of weapons and initiation will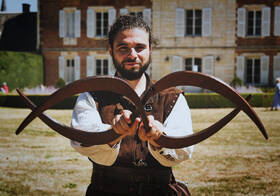 take you back to the time of chivalry and the fighters of the Renaissance.

Or be amazed by the prowess of the juggler, who will share his tricks with you.

During your visit, you may also spot famous Renaissance figures, giving you the opportunity to take a historical selfie!

All these activities are included in the entrance fee.