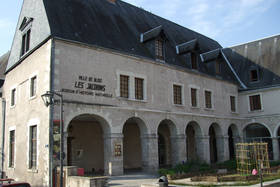 To discover the Blois museum of natural history (6 rue des Jacobins) is to view nature differently. The permanent exhibit « The Blois area, crossroads of natural regions » invites the visitor for a naturalist stroll allowing him to size up not only the intricate complexity and fragility of our environment, but also the untold wealth of our region.

From the plains of Beauce to the ponds of Sologne, from the heaths to the woods, discover the biodiversity and exceptional natural heritage of our region. Observe the hidden world that surrounds us with the museum's 12 dioramas, 14 manipulations, more than 200 animals, and numerous animations. Thematic educational activities, commentated visits and large-scale workshops accompany visitors of all ages in their discovery of the local fauna and flora.

The museum of natural history hosts small scientific, naturalistic and artistic exhibits in its gallery; they are open to one and all. In addition, a documentation center contains more than 1000 works on the life sciences and the Earth.