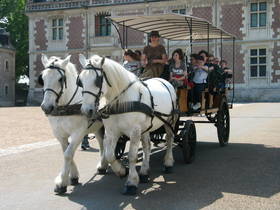 From the Chateau square, take a stroll in the streets of ancient Blois at the pace of a percheron horse. The coachman will give you the information you need to understand the monument and landscapes surrounding you. You will go down by the ditches, and then straddle alongside St. Laumer abbey and the Loire river. You will learn about the depredations due to the second world war, and then have a breathtaking view of the Denis Papin staircase linking the lower and the higher neighborhoods of Blois. The stroll will culminate close to the vestiges of the medieval walls, the Augustin Thierry garden, St. Vincent church and the facade des loges (lodge facade) of the castle.

In your carriage, as hooves clomp and wheels grind, you will feel like you belong to the king's court!

A 25-minute circuit in a covered carriage, accessible to families.