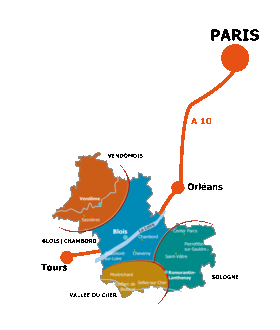 The town of Blois is located on the door step of the Val de Loire, less than 2h south of Paris.
The Royal Chateau of Blois constitutes the ideal introduction to a visit to the accessible chateaux of the Loire, less than 30 minutes away: Chambord, Cheverny, Chaumont sur Loire, Amboise, Chenonceau...

How to get to Blois?
> By car
From Paris: 180 km/112 miles (2h)
- autoroute (motorway) A10: Paris/Bordeaux - exit Blois
- route nationale (highway) RN 152: Paris / Orléans / Blois
From Nantes: 285 km/177 miles (3h)
From Lille: 400 km/250 miles (4h)
From Lyon: 450 km/280 miles (4h30)
From Bordeaux: 400 km/250 miles (4h)
To prepare your itinerary, go to: mappy / viamichelin / google maps
GPS coordinates:
- Decimal degrees: Latitude 47.585343 Longitude 1.331537
- Degrees, minutes, seconds, hundredths: Latitude N46 35 08 77 Longitude E1 19 53 52
> By train

1h30 from Paris (Gare d'Austerlitz): the Paris / Tours and Paris / Nantes lines
To prepare your itinerary:
www.voyages-sncf.com
www.ter.sncf.com/centre

To go to the Chateau from the Blois-Chambord railway station:
By foot: 8 mn
By bus: stop at the foot of the Chateau -
Information: www.azalys-blois.fr
By taxi: taxi at the railway station 24/7
Information: 0033 (0)2 54 78 07 65



> By bicycle
Nearly 400 km/250 miles of lanes, pathways and small roads have been conceived, designed, benchmarked and secured in the vicinity of the chateaux of the Loire.
Several itineraries passing through Blois are detailed on
www.chateauxavelo.com

2 bicycle parking areas at the foot of the Chateau and on the square
The Royal Chateau of Blois has been awarded the "La Loire à Velo" and the "Accueil Vélo" (bike hospitality) certification guaranteeing cyclists a high quality of welcome.
Further information on www.loireavelo.fr
Bicycle rentals: www.bloischambord.com
> By bus
There is a bus stop at the foot of the Royal Château of Blois.
- Azalys transport company: to inquire: 0033 (0)9 693 693 41 or www.azalys-blois.fr
- Shuttles: to inquire: www.remi-centrevaldeloire.fr - www.bloischambord.com/planifier/transport/navette-bus-mini-bus
> From foreign countries by plane
From Paris: Orly (180km/112 miles) or Roissy-Charles de Gaulle (220km/137 miles) airports
From Tours: Tours - Val de Loire airport (60km/38 miles)

Parking facilities

> Car park
The closest underground parking lots:
- "Chateau" parking at 200m (416 parking spaces), access on avenue Jean Laigret - 3€ / 3 hours
- "Valin de la Vaissière" parking (336 parking spaces), access on quai de la Saussaye

The Blois town center features ample surface parking, including more than 600 free parking spaces (10 to 15 minutes from the foot of the Chateau)
> Camper van parking
Avenue Wilson, next to the "Parc des Expositions" / Promenade Edmond Mounin / Port de la Creusille. To inquire : https://www.blois.fr/pratique/stationnement/camping-cars

> Bus park
Free park for buses situated 400m away from the chateau. Download the map