Track the evolution of the Château over the centuries by piloting yourself 3D models on huge touch-sensitive screens!
In the immense room of the General Estates, or in the rooms of architecture and interpretation, you can discover our application on the architectural evolution of the château and the city.

For that purpose, two tactile big screens arranged in the room of the General Estates, as well as two tactile tables in the rooms of interpretation, presents five models of the château: during the 13th century ( medieval fortress), then at the time of Louis XII, of François Ier, of Gaston of Orléans, and finally in that of Félix Duban (restoration of the château during the 19th century). Furthermore, a 3D map presents other monuments of the city by chronological tabs.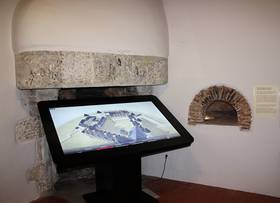 These models in 3D, are completed by other contents: a video animation which summarizes the architectural evolution of the château in 30 seconds, the interactive notes and the illustrated timelines which also help you in to know more about it on the characters who marked the château, its history and its collections.

And now, play on!