Become one of our patrons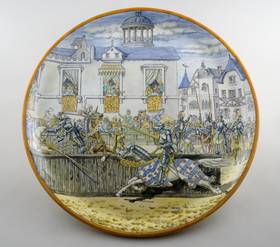 Chateau management depends on the budget allocated by the town of Blois and on revenues generated by tickets sold and goods bought at the shops. Things being as they are, we are in need of patrons and sponsors: Individuals as well as companies can help us to conserve and enrich our heritage, and French legislation renders tax-deductible up to 60% of a donation, which can also be rewarded by considerations such as use of rooms or a personalized welcome.
By giving a gift or making a bequest
Since 1850, numerous patrons have given or bequeathed objects and, in some cases, complete collections to the Royal Chateau of Blois. If an object is to be added to the collection of the museum, it must present an artistic or historic interest relevant to the themes of the collections or in relation with the chateau itself. Any proposed gift shall be closely examined by the acquisition branch of the regional scientific commission under the supervision of the French culture ministry.
By financing a project
The Royal Chateau of Blois is a continually evolving institution whose existence is punctuated by artistic and cultural events: Acquisition or restoration of works, organization of temporary exhibits or shows, publication of catalogs... Your company can support our projects by means of a contribution in cash, in kind (material) or in skills (communication, transportation...). This will be the one occasion for you to show your attachment to the renown of our Chateau and its history.
By becoming a friend of the Chateau
You, as an individual, can become one of our patrons by joining the Societe des Amis du Chateau et des musees de Blois. Your friendly participation will enable the Chateau-museum to restore its collections and monument. The association also provides support for cultural mediation and offers its members a wide range of activities: Special visits, invitations to inaugurations, lectures, excursions, trips...